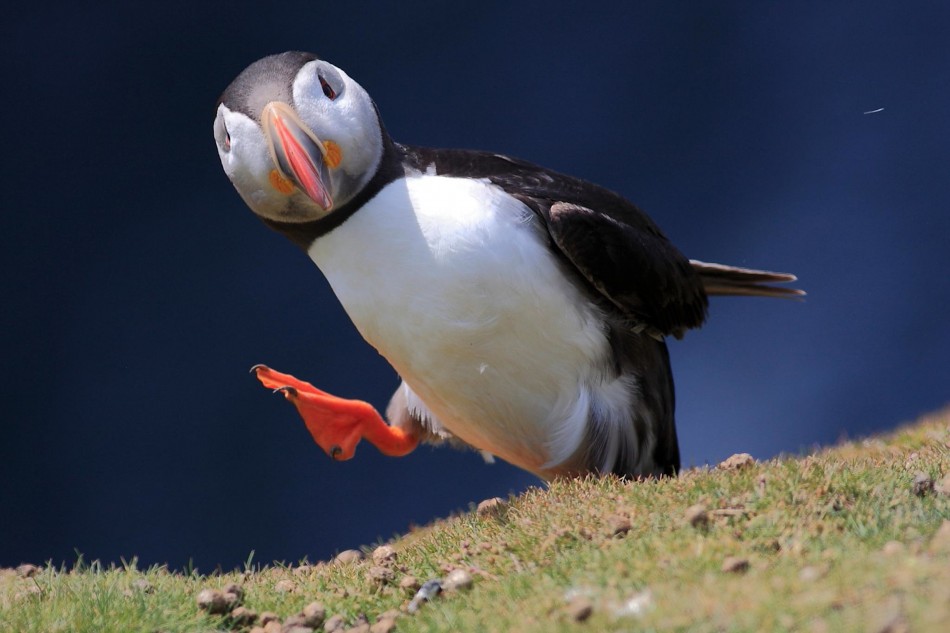 If you thought Puffins only reside at Haystack Rock, then you've been missing out on Cannon Beach's OTHER famous Puffins, Puffin Brand Wine.    Since the original vintage in 2005, Puffin Brand Wine has been available at The Wine Shack.  Dean Reiman, former owner of The Wine Shack, was interested in creating a unique brand of wine that would be both delicious and representative of Cannon Beach.  He is also responsible for the great artwork on the label.  One of the best things about acquiring The Wine Shack last year, is that the purchase also included Puffin Brand Wine!
Since its debut, the Puffin Brand Wine family has expanded twice.   In 2006, a Red Blend was added to the Puffin lineup, and just this month we added a Pinot Gris.  Each of these wines represent the very finest of Oregon winemaking and are consistently The Wine Shack's best sellers!
Puffin Pinot Gris
No longer exclusively offering red wines, Puffin Brand now offers a delicious Pinot Gris ($20).  Released on May 15th, the 2012 Puffin Pinot Gris is made by Ray Walsh, the Winemaker at Capitello Wines in Eugene.  Ray has an incredible pedigree with Pinot Gris as he was the Head Winemaker at King Estate, (one of the US' best-selling Pinot Gris), prior to starting Capitello Wines.
This soft, amber-colored Pinot Gris offers floral aromas of melon, papaya and honeysuckle that immediately grab your attention.  More subtle aromas of apple and pear follow to make this wine extremely inviting. In the mouth, this refreshing wine is bright from start to finish. Fruit flavors of apple, apricot, pear and citrus fruit allow the wine to linger long into the finish.
I recommend serving Puffin Pinot Gris well chilled.  It is very food-friendly pairing nicely with a Asian cuisine, cheese plates, salads, fish and shellfish (especially crab cakes). It also is a nice companion for a summer day at the beach.
We've poured it a few times in the Tasting Room and I expect to pour it at the Cannon Beach Farmers Market.  We only have 112 cases of the Puffin Pinot Gris and since it's been such a big hit already, I'm certain it's going to sell out.
Puffin Pinot Noir
Since its first vintage in 2005, Pinot Noir has been the flagship of Puffin Brand Wine. The early vintages of Puffin Pinot Noir were made by Michael Beckley, an Oregon winemaker who is known for creating Pinots in the classic French style, full of elegant aromas. Later vintages of Puffin Pinot Noir were made by Justin VanZanten of J Daan Wines in Carlton, Oregon. Beginning with the 2009 vintage, Puffin Pinot Noir is being made by Sean Driggers of Pudding River Wine Cellars, located in Salem.   If you aren't familiar with Pudding River's wines, you need to be.   Almost every wine Sean makes ends up being a Medal winner – including ours!
The 2009 Puffin Pinot Noir ($25) opens with aromas of violets and black cherries, paired with a smoky toast background, followed by flavors of plum and black fruit on the mid-palate. This wine is nicely balanced, with a long, clean finish.   Puffin Pinot Noir is perfect with salmon, portabella, turkey and tofu. It also pairs well with salads, chicken, pork and bacon.
This wine is delicious, but you don't have to take my word for it.  Recently, the 2009 Puffin Pinot Noir won a Bronze Medal at the 2013 Savor Northwest Wine Competition. This is the first medal (with many more expected to come) for Puffin Brand Wines.
Puffin Red Blend
For those of you who like red wine but want something a bit bolder than Pinot Noir, Puffin Brand Wine also offers a delicious Red Blend, made entirely from Oregon fruit. John Grochau, the Winemaker at Grochau Cellars in Portland, has been making the Red Blend since its first release in 2006.
While the exact blend changes from year to year, the result stays the same, it's fantastic!  The 2009 Puffin Red Blend ($25) is a combination of Cabernet Sauvignon, Syrah, Merlot, Pinot Noir, Malbec and Cabernet Franc.This six grape wine is full of red fruit flavors, including cherry and red currant, with a beautiful deep ruby red color. This wine is soft in the mouth, with tastes of ripe cherry & vanilla.  Also food-friendly, I recommend the Red Blend with wood-fired pizza, hard cheeses, pasta with marinara sauce or hamburgers.
Maryann and I are really proud of the current Puffin Brand Wine lineup.  And, with that being said, we are already working to expand the lineup again next year.  I won't give any more details on that, but I will tell you that the wine will be of exceptional quality just like our others, and a perfect complement to our beach lifestyle.
When Dean started Puffin Brand Wines, he made a commitment to donate a portion of the proceeds from each bottle to the Friends of Haystack Rock/Haystack Rock Awareness Project.   Maryann and I are proud to say that we have continued that tradition and support the Puffins!
If you and your friends are enjoying a Puffin Brand Wine, please do so responsibly.   Don't drink and drive