Maryann and I recently returned from a "work trip" – a week-long Wine Cruise with Un-Cruise Adventures.  We soaked in the beauty of a sail on the Columbia and Snake Rivers, ate like kings and queens and the wine was pretty darned good too.
This is the second year we've worked with Un-Cruise Adventures, a small ship cruise line based in Seattle.  We sailed out of Portland on the S.S. Legacy, a replica of an early 1900's steamer that has a maximum capacity of 80 passengers.   As we pulled out of town, we toasted the upcoming journey with sparkling wine and waves to those watching from shore.   An indulgent journey of wine and food was about to begin.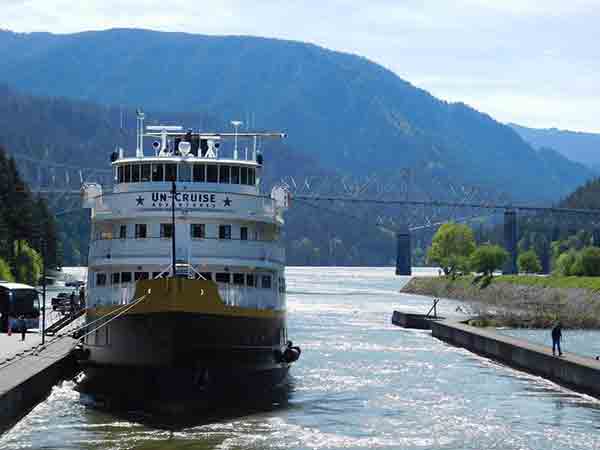 One of my official duties as the on board "Wine Host" is to deliver a daily wine-related presentation for the passengers.  I led off talking about tasting room etiquette, including "do's and don'ts" in the tasting room.  After operating The Wine Shack's tasting room for the past four years, I am truly in an expert on this topic.  It's an important topic and I try to use some humor to keep the subject light.  "Ladies, I know you like to smell all pretty for your man, but take it easy on the perfume!   I want to smell chardonnay, not Chanel."
The next day we visited Springhouse Cellars and Mt. Hood Winery, in Hood River.    Both wineries are charming in their own way, Springhouse, in the ruins of an old fruit cannery has a rustic feeling yet a very young, though third generation winemaker, while Mt. Hood Winery has a more modern feel and epic views of its namesake.
On Day Three we stormed Walla Walla!   The ship docks at the beautiful port of Burbank (that's an inside joke for anyone who's ever been there) and from there we journeyed into wine country.    We visited Basel Cellars and Castillo de Feliciana before spending the afternoon at the "wine incubators" located near the airport.    The Walla Walla incubator project was set up by the Port Authority and the local business community to give deserving and aspiring winemakers a low cost place to begin making wine. There, we tasted at Walla Faces, J & J Cellars and Palencia, my favorite of the bunch.    Palencia has hit the market with amazing wines, earning a "Best of Show" at last year's Columbia Gorge Wine Competition for their Rose' and a "Best of Class" this year at the same competition for their Albarino.    They are also thinking outside the bottle and are putting their Vino la Monarcha Cabernet Sauvignon, Merlot and Chardonnay in Astropaqs, a plastic pouch with a tap.   Initially, I was unsure about this as I usually find the quality of wine in alternative packaging to be below average.   Surprise!  These are really nice wines.   The lightweight and unbreakable packaging makes them perfect to take along when camping, hiking or biking.
We didn't visit a winery on Day 4, but instead, we visited Palouse Falls and then took a jet boat ride on the Snake River after lunch.   That afternoon, I was settling into a comfy chair, when I was suddenly paged to Captain Scott's poker tournament over the ship's intercom.   I'm not a sailor, but I know that when the Captain pages you by name, you need to show up.   As I entered the saloon and walked up to the poker game, it was clear Captain Scott wanted revenge.  You see, last August, things didn't go so well for the Captain and he was the first player out of his own poker tournament.    Captain Scott was determined to put me away.   Not being much of a poker player, I helped seal my own fate.   During one of my last hands, I proudly laid down my cards and announced I had won with a straight.    The only problem was that it was a straight of four, not five.   Loser.  Shortly after that debacle, I was bounced out of the poker tourney and Captain Scott had his revenge.    Clearly, I need to go to poker camp before our October cruise.
We also visited Terra Blanca winery in Prosser, Maryhill Winery and Sunshine Mill Winery in The Dalles.    The guests enjoyed the wines and never seemed to slow down.    If there were wines to taste, this group was up to the challenge!
On Day 6, we docked in Astoria at the Maritime Museum and got on a bus heading for Cannon Beach.  It's strange to drive into the town you live in on a bus filled with tourists.    The group was headed for wine tasting at The Wine Shack!    After a week of hanging out together with the guests, it is so rewarding to pour the Puffin wine lineup for each of them.   They seemed to have a great time in our tasting room and it's hard not to, considering the delicious wine we pour combined with the chill beach vibe.  The group left and took about 15 cases of Puffin wine with them.   They also spent about 2 hours walking through town and I saw a number of the guests with bags from local shops.
Maryann and I were joined by Marlene Reynolds (Maryann's mom), Julie Sackett, who owns a Breaker's Point condo and Joan Stubblefield, who lives in Tolovanna.   These three kept the group laughing with their antics and demonstrations of massive fermented beverage consumption.   I can't say anything more about their activities as I was sworn to secrecy.
I need to mention the food.   Each evening, Chef Aletha served three delicious entrées, consisting of a fish entrée', an entrée for meat lovers and a third for vegetarians.    Because I was working, I regularly asked for a sample of each, so I could speak on the food-wine pairing.   Remember, I'm a professional and this was hard work.   Last winter, Un-Cruise Adventures won a major international award for "Best Small Cruise Ship Food."   It's easy to see why as every meal was over-the-top delicious.  Even the box lunches the kitchen staff made for us when we were off the ship at lunch time were delicious.  The box lunches included gourmet sandwiches, with cobb salads or quinoa salads.  Not your typical box lunch fare.
Maryann and I will be back on the S.S. Legacy on October 22nd for another amazing week long wine cruise and we can't wait.   If you're interested in joining us, you can check out the itinerary and the prices at www.un-cruise.com.    Just be ready, I'm practicing my poker.