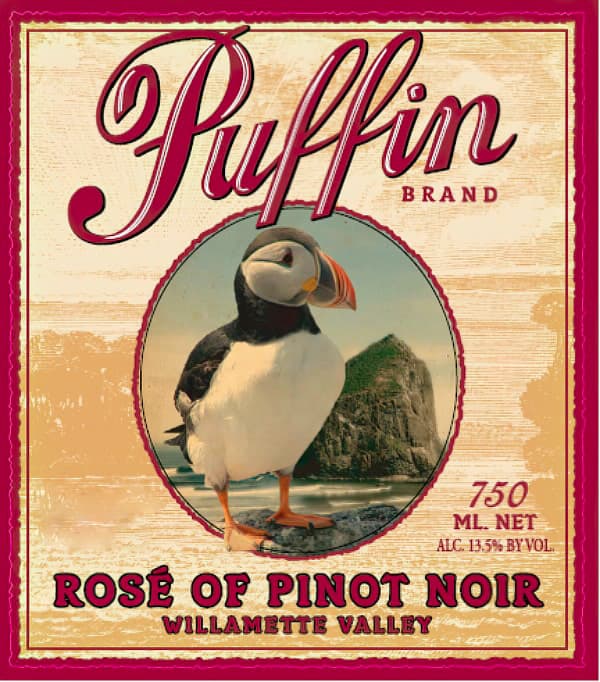 Puffin Rosé of Pinot Noir 2021
Tasting Notes
Made from 100% estate Pinot Noir, this salmon colored Rose' delivers smoky aromas of strawberry, rhubarb, pomegranate and candy apple.
In the mouth, this wine is crisp, but is balanced nicely with a slight presence of acidity.  The mouth-feel is fresh and combines nicely with the flavors of strawberry shortcake and grapefruit zest.
Food Pairing
Serve chilled. Puffin Rose' pairs nicely with a variety of foods, including burgers, tacos, grilled chicken and hard cheese plates.  This wine also makes a nice companion for a summer day at the beach or on the patio.
Product Notes
Made with 100% Pommard clone, the fruit for this delicious Pinot Noir comes from Pudding River Wine Cellars' Estate Vineyard in Salem, OR.  The vineyard has is relatively flat with a slight southwest aspect and uses VSP (vertical shoot positioning) trellising.
Harvested approximately 10 days earlier than the fruit for our Puffin Pinot Noir, the grapes were sorted by hand and de-stemmed to whole berries. Once in the press, the juice and skins were in contact for about 45 minutes, giving the wine it's beautiful salmon coloring.  In the cellar, this rose' was fermented in stainless steel tanks at approx. 45 degrees for 4 months.
Winemaker
Puffin Pinot Noir is a collaboration with Sean Driggers, the Winemaker for Pudding River Wine Cellars, located in Salem, OR. Sean's wines have earned numerous Double Gold, Gold and Best of Class awards at wine competitions across the Pacific Northwest.
Technical Notes
Vineyard AVA: Willamette Valley, Oregon
Alcohol: 13.5%
Cases Produced: 100 cases
Winemaker: Sean Driggers