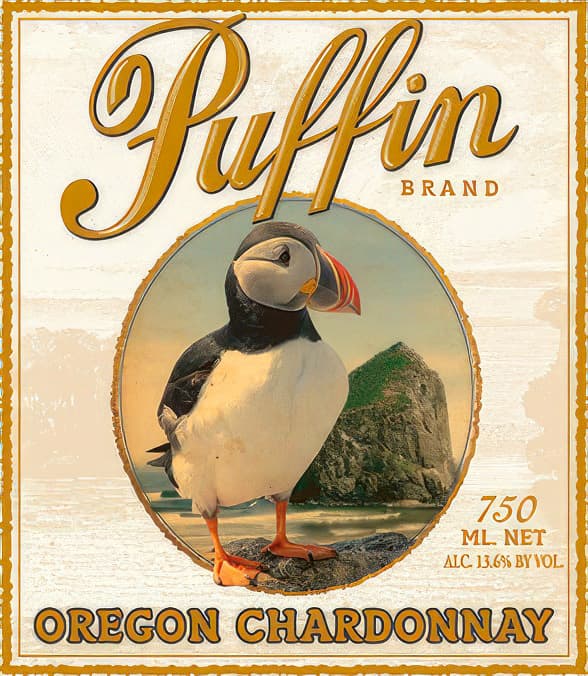 Puffin Chardonnay 2018
Tasting Notes
We call this our "Chardonnay for people who don't like Chardonnay!"   Puffin Chardonnay is a well-crafted wine that showcases the best of the region's terroir.  It has a great balance of fruit with notes of oak, with a creamy texture that adds complexity to the palate.
This delightful straw-colored Chardonnay offers complex aromas of ripe yellow apple, baked pear and lemon curd.  There are also whispers of vanilla and butterscotch which make this a wine to savor!
In the mouth, this cool climate Chardonnay has a rich and creamy texture, with a medium-full body that coats the mouth. The flavors are dominated by ripe fruit, such as apple and lemon.  There are also notes of butter and caramel which comes from the malolactic fermentation and barrel aging  The acidity is moderate, which balances the richness of the wine.
Food Pairing
Serve slightly chilled (55F).  This food friendly Chardonnay pairs nicely with a wide variety of foods, including cheese plates, salads, and crab cakes.   It also is a nice companion for a summer day at the beach or on the patio.
Product Notes
The fruit for this delicious Chardonnay is sourced from one of the northernmost vineyards in the Willamette Valley, "Aggravation Hill", located outside of Banks, OR.  The vineyard has a slightly southwest aspect, which helps the fruit to ripen in early fall.   The vineyard uses VSP (vertical shoot positioning) trellising.  The wine goes through full malolactic fermentation and is aged in neutral French oak for nine months.
Winemaker
This Chardonnay is a collaboration with John Derthick, the Winemaker for Lujon Wines.
Awards
SILVER MEDAL, Savor NW Wine Awards 2022
Technical Notes
Vineyard/AVA: Aggravation Hill, Willamette Valley, OR
Alcohol: 13.3%
Cases Produced: 70 cases
Winemaker: John Derthick