Every summer, since beginning in 2000, a group of Oregon's finest wineries hold "Oregon Pinot Camp", a jam-packed weekend of seminars, presentations and tastings devoted to Oregon's premier wine grape, Pinot Noir.  Pinot Camp was originally conceived to be a one-time event to promote Oregon Pinot noir to selected wine retailers, sommeliers, distributors, hoteliers and restauranteurs from across the US and Canada.   However, because of the enthusiastic response and resulting increase in wine sales, Pinot Camp transformed into an annual event.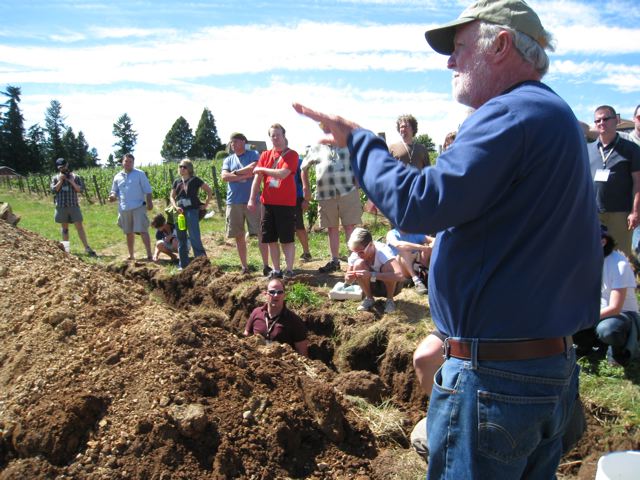 I haven't gone to summer camp in about 40 years or so, but I had the good fortune to be an Oregon Pinot Camper this past weekend in the Willamette Valley.   Not knowing exactly what to expect, I left Cannon Beach on Saturday afternoon, while the Wine Shack's Saturday tasting was in full swing heading to Dundee for OPC's Opening Reception held at Sokol Blosser.   Once arriving at the reception, this year's 275 attendees were treated to an amazing selection of wines from the 50 wineries participating in OPC 2016.    Paella and pinot noir, what a delicious way to start the weekend.   The reception party was still going strong when I headed to my hotel for the night.   I heard that a good night's sleep would help me be at my best for Day 1.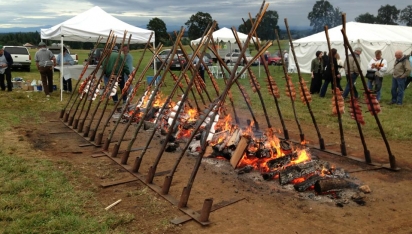 Day 1 began bright at early.   I was assigned to the "Red Bus" and told to be at the bus no later than 7:30. The fun started immediately upon arrival as the Red Bus Camp Leaders were pouring Argyle Brut Sparkling wine and blasting old school hip hop from the back of their car.  Breakfast was served at McMinnville's Evergreen Air Museum, under Howard Hughes' Spruce Goose.   I had the pleasure to eat with Maysara Winery owner and winemaker Moe Momtazi.
Back on the bus, we were off to Penner Ash winery for presentations on Willamette Valley soil types and how the soil impacts a wine's structure.  We also heard several presentations about topography and vineyard practices, mostly centered around vine canopy management.  "The pursuit of balance" was the overall theme and while there were many opinions on which practices lead to balance, the speakers all agreed on one thing, great wine isn't made in the winery, it's grown in the vineyard.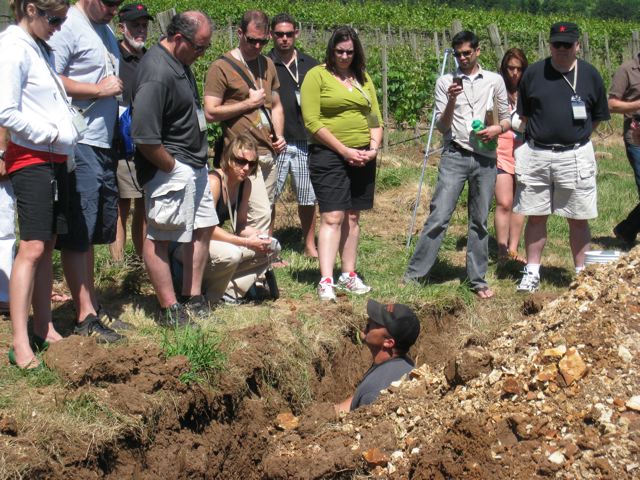 After a delicious lunch in Penner Ash's tank room, the Red Bus headed to Elk Cove Vineyards to hear more presentations on soil and vineyard practices.  After each presentation, we sampled pinot noir that reflected the topic, for example we tasted wine made from clay versus volcanic soils, and wine made from low hanging grape clusters versus higher hanging clusters.   The message was clear, every decision in the vineyard directly impacts the taste and structure of the wine.
Day 1 ended with a delicious dinner at Anne Amie Vineyards.   All 275 attendees were back together for a delicious meal, world class pinot noir and an amazing sunset.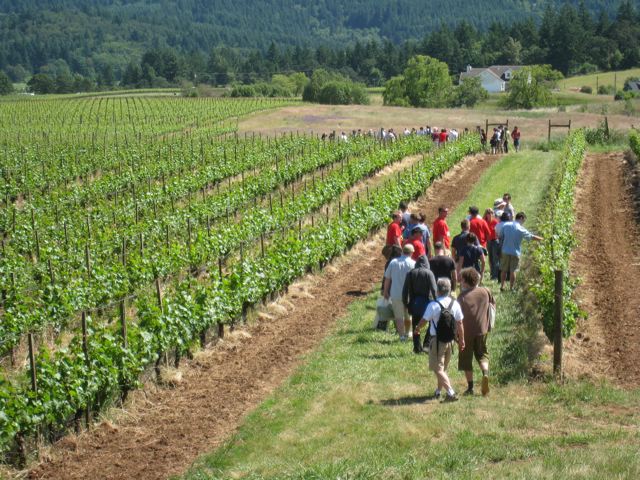 Day 2 started even earlier as the red bus headed for Adelsheim Vineyard at 7:15 for breakfast and pinot noir winemaking presentations by Rex Hill winemaker, Michael Davies, Solena's winemaker, Laurent Montalieu, and Veronique Drouhin, from Domaine Drouhin.  They talked about their background and how it impacts their style of winemaking.   We then tasted through 3 pinot noir panels and discussed how the wines reflecting vintage, soil and winemaker.   I had the good fortune to sit next to Veronique Drouhin, the head winemaker for not only Drouhin's Oregon winery, but who also leads winemaking at the Joseph Drouhin Domaine in Burgundy, one of the largest winery estates in the world.  This was possibly the highlight of the entire weekend as Veronique works passionately to make world class wines in the two finest pinot noir regions in the world, Burgundy and the Willamette Valley.
Next, we headed to Trisaetum for their "Chasing the Great White" session.  As a white wine lover, I really enjoyed the presentations on Oregon's three main white wines; Chardonnay, Pinot Gris and Riesling.  Oregon Chardonnay is best known for being food friendly, with crisp acidity, a focus on fruit flavors and a restrained use of oak. These chardonnays have much more in common with Burgundy's Chablis than oaky butter bombs from California.   Chris Williams, winemaker at Brooks Winery gave the Riesling presentation and surprised us all when he said he makes 17 different Rieslings.   That man loves Riesling.   Before leaving Trisaetum, we had lunch on their patio and sampled a variety of their Pinot noir and Riesling offerings.
After lunch, the red bus made its way to Lemelson Vineyards for the last session of Pinot Camp, the winemaking process.   We listened to six winemakers, in teams of two, talking about choices they make at each step of the winemaking process and how each decision impacts the final taste of the wine.   Should they make wine from whole clusters or berries, punch down or pour over the cap, use new oak or old oak, French, Hungarian or American oak barrels?  The list of questions is long and each response results in a slightly different wine.   Winemakers develop their own processes but continue to experiment, sometime successfully, sometimes not.   But they are always looking to make the very best Pinot noir they can.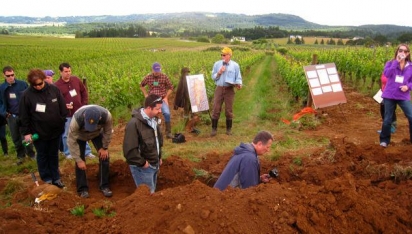 Pinot Camp ended with a traditional salmon bake at Stoller Vineyards.  The food was delicious but the wine was amazing.   Winemakers walked thru the tent pouring library and reserved wines, from bottles of every size.
I would like to say "Thank you" to Sokol Blosser Winery for nominating me and selecting me to attend Oregon Pinot Camp 2016.   It was an incredible experience I'll never forget.