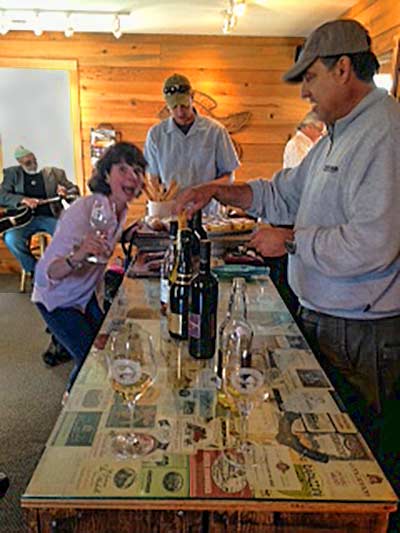 The Wine Shack is located at 124 N. Hemlock Street, Cannon Beach, OR 97110.
From Portland: Travel Hwy 26 west to the coast until you get to Hwy 101.  Go south on 101 four miles to the first Cannon Beach exit.  Just before the exit you will get your first glimpse of Haystack Rock!  Once you go through the stop sign, go over the bridge and you will pop right into the downtown area where Hemlock is the main street.
From South of Cannon Beach: Travel north on Hwy 101 to the Sunset Blvd Cannon Beach exit.  Go west off the exit on Sunset Blvd to Hemlock and turn right.  The Wine Shack is about 1.5 miles north on the left.

Once in Cannon Beach: The Wine Shack is located in the charming downtown area of Cannon Beach, Oregon, on the West (ocean) side of Hemlock Street.  Our front door opens to a brick courtyard shared by the Coaster Theatre, the Lazy Susan restaurant.  There is a public parking area behind the courtyard and parking is also available on Hemlock and in other areas around town.  We are about 400 yards from the beach!
Wine Shack Hours: Sun-Thur 12-4, Fri-Sat 12-5:30
Tasting Room Hours:  Our Tasting Room is open Sunday-Thursday from 12-4, with the last pour starting at 3:30.   On Friday and Saturdays, our Tasting Room is open, often with guest winemakers, from 12pm – 5pm, with the last pour starting at 4:40.
Our Customers Love Us……
and We Love Them Too!

Kelsey R. – on Yelp
"Popped in here the other day while walking around Cannon Beach. The owner greeted us right away and helped us pick wines. My mom said she really wanted something from the Northwest. The owner described pinot gris, and fully disclosed that one was his own brand. We ended up going with his pinot gris and it was great! We will definitely be ordering more from him in the future online."

Heather C. – on Yelp
"A group of girls and I spent the weekend on the coast and wanted to find a place for wine tasting. We had so much fun at the Wine Shack! Steve taught us about each wine, was hilarious and really made the afternoon special. Every Puffin wine we sampled was worth buying (and almost every girl in the group bought a bottle or a case). I can't recommend it enough. A highlight of the trip."

Arlen C. – on Yelp
"Absolutely adorable local wine store in town. I was expecting pretentiousness because I felt a lot of the town shops were that way but not here. The owner is a super relaxed, friendly and knowledgeable guy who knew his wine and had a passion for it and whatever else could be paired with it. Absolutely loved the selection and am excited to try their award winning in-house brand Puffin Pinot Gris."