History's Lost Grape, Carmenere
Makes a Return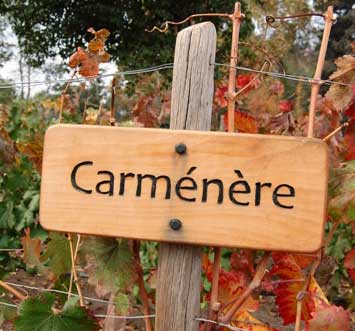 One of my "Wine Resolutions" is to venture into lesser known grape varietals and share my findings from time to time. Recently, I've tasted several unique and delicious wines and I want to share a new favorite, Carmenere.
A relative of Cabernet Sauvignon, Carmenere was one originally from the Bordeaux region of France. As you probably know, Bordeaux is famous for its "red blends," in which the winemaker carefully combines the fruit from several different grapes to achieve the desired aromas and flavors. In a modern Bordeaux blend, the winemaker typically blends some combination of Cabernet Sauvignon, Merlot, Syrah, Petit Verdot, Malbec and/or Cabernet Franc. For centuries, Carmenere was also used by French winemakers to create a Bordeaux blend. Unfortunately, in the mid 1800's, a phylloxera epidemic in Europe killed every Carmenere vine across the continent. It was assumed that Carmenere was lost to history and for over 100 years, it was.

Then, in 1994, an amazing discovery was made in Chile. A number of Chilean vineyard owners were trying to determine why some of their Merlot vines were ripening much earlier than others. Specialists were called in and determined that the early ripening vines weren't Merlot, they were Carmenere! These Carmenere vines, which had been planted over a century ago in Merlot vineyards, were from cuttings that originally came from Bordeaux.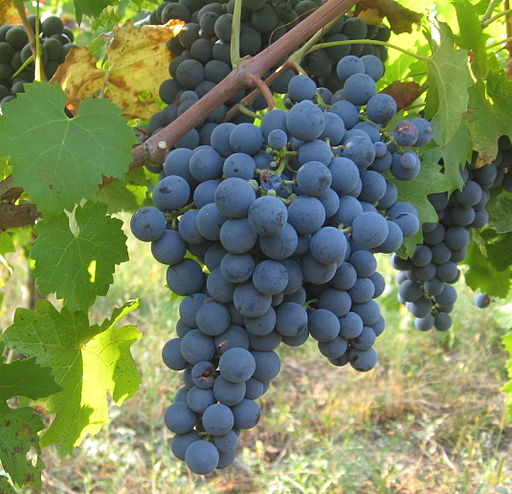 Since being re-discovered in Chile, wineries around the world are eagerly establishing Carmenere vineyards. Chile has adopted Carmenere as its country's signature grape and is the world's largest producer of Carmenere. But, you will also find Carmenere vineyards in France, Italy, Australia, New Zealand and the United States. In the Pacific Northwest, Carmenere is produced by Reininger Winery, located in Walla Walla, Washington.
If you've never tasted Carmenere, you are in for a nice surprise! I tasted Carmenere for the first time about a year ago and loved it. I found Carmenere to be similar to Cabernet Sauvignon and Merlot, in that it has a deep red color, with aromas of fruit and pepper. But, where Cabs and Merlots typically have dark fruit flavors, Carmenere offers more red fruit, such as cherry and raspberry, resulting in a very different flavor. Carmenere doesn't have as much tannin as Cabernet Sauvignon or Merlot, which makes it a very nice red wine for summer. Another plus is that pairing food with Carmenere is easy. Because Carmenere has less tannin than a Cab or Merlot, it pairs nicely with lighter grilled foods, such as chicken, burgers, portabella, veggies, pork loin or sausage. Carmenere would also be delicious alongside a bowl of pasta with marinara sauce.
Recently, I tasted a 2013 Seasons Cellars Carmenere.   Seasons Cellars, located in Roseburg, OR is one of the only Pacific Northwest wineries working with history's lost grape.  This wine delivers complex aromas of dark chocolate, dark fruit, with a hint of coffee and dried herbs.   On the palate,  this full bodied wine offers dark fruit flavors with notes of cocoa and tobacco.
I've poured Carmenere in The Wine Shack's tasting room in the past and it has always sold out.   People find it familiar, yet different, from wines they've tasted before.   I don't recall a single person who had tasted Carmenere before.
As for my other "Wine Resolutions", I have been trying to get to the Willamette Valley in an effort to find some wines from smaller, lesser known wineries. Unfortunately, my Mondays (day off from the store) have been occupied with various meetings and errands. Hopefully, as the temperatures begin to warm up, I'll be able to venture into the valley in search of wine excellence. Until then, I will keep looking for unique varietals from around the world to bring into the store and share with my eager, but unsuspecting, tasting room visitors.
If you discover a unique varietal that I need to know about, please send me an email at steven@beachwine.com. I'd love to hear about your wine discoveries.
It's fun to visit tasting rooms and sample all of the wines, but remember to do so responsibly.