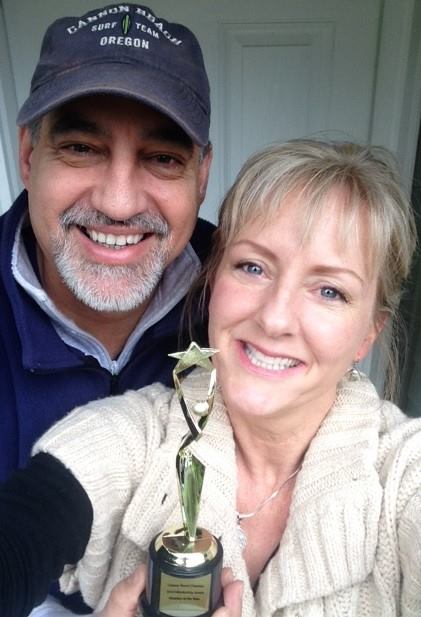 In 2007, Maryann and I went on a California Wine Cruise.  The small cruise ship left the San Francisco Bay and journeyed up the Napa River. During the day, we toured wineries in Napa and Sonoma tasting their delicious wine.  Back on the ship in the evenings, a local Sommelier held educational classes on California wine. During the trip, something sparked inside of me and I began to study wine and winemaking, at Des Moines Community College (DMACC). I made wine in our basement, designed labels online and gave bottles of my wine to friends and family at Christmas. Another year or two went by and during a visit to the Oregon Coast, Maryann and I passed through Cannon Beach on a stunning August afternoon and knew immediately we would end up in Cannon Beach.
Back in Iowa, I worked on plans to get into the wine business. My initial plan was to open a winery in Cannon Beach.  However, my business career interrupted these plans with a move to Atlanta in 2010 (which was in the wrong geographic direction) but somehow we knew it would be a stepping stone to the Pacific Northwest. In late 2011, Maryann worked out a job transfer from Atlanta to Portland!  We were a giant step closer to making our Cannon Beach plans a reality. While looking for a wine job in the Willamette Valley, I found The Wine Shack for sale on Craigslist.   In March 2012, Maryann and I became the proud new owners of The Wine Shack and Puffin Wines.
In January 2016, The Wine Shack was voted "Best Wine Shop" by Coast Weekend's Reader's Choice Awards.   In Spring 2014, noted wine writer "Wine Julia" named The Wine Shack "the best wine shop on the Oregon Coast".    Additionally, The Wine Shack was named one of the Top Wine Stores in America by GQ Magazine.  At The Wine Shack, you will find an excellent wine selection in a cozy atmosphere. The Wine Shack is known for its emphasis on Oregon and Washington wine.  The Pacific Northwest is home to some of the finest wineries in the world and The Wine Shack proudly offers those wines to our customers.
The Wine Shack is also home to Puffin Wines.    These wines are made by local Oregon winemakers exclusively for The Wine Shack.   The current lineup consists of Puffin Pinot Gris, Puffin Chardonnay, Puffin Rose', Puffin Pinot Noir and Puffin Cabernet Sauvignon.
We hope you will come to Cannon Beach and visit The Wine Shack soon.
Cheers!
                                            Steven & Maryann