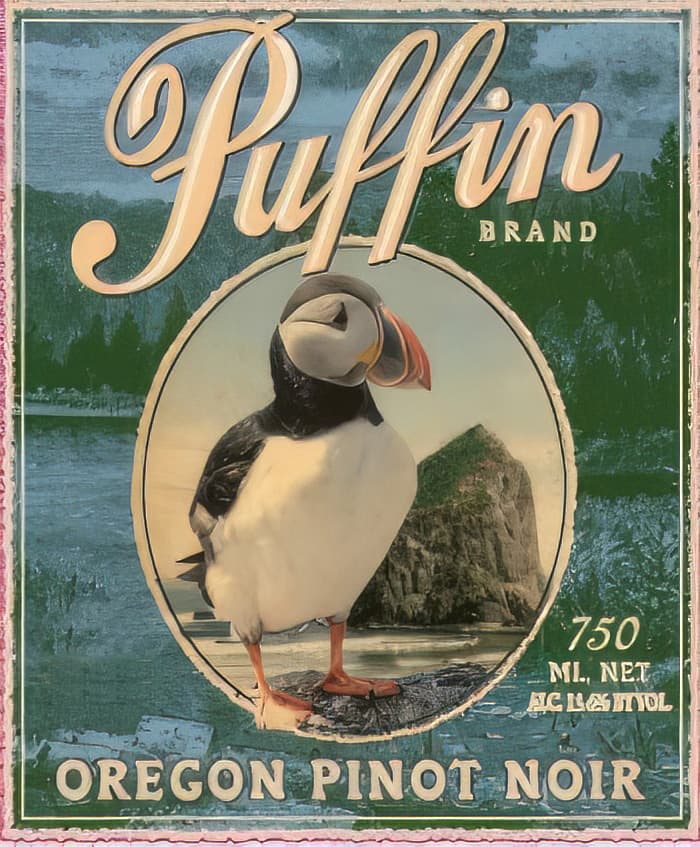 Puffin Pinot Noir 2019
Tasting Notes
Our highest rated pinot ever, Puffin Pinot Noir 2019 is a delightful wine that showcases the best of what Pinot Noir can offer.  This beautifully crafted wine embodies the elegance and complexity of the Pinot Noir Grape.
This wine has a bright, clear ruby red color with slight transparency at the edges. On the nose, this wine opens with brooding aromas of black cherry and blackberry with earthy notes of mushroom and forest floor.  Puffin Pinot Noir 2019 has a smooth velvety texture that cost the mouth.  It's medium bodied with hints of herbal tea present in the mid-palate.   The tannins are silky and well-balanced, providing a pleasant structure to the wine.  The acidity is bright and refreshing, adding a crispness to the finish.
Food Pairing
This food-friendly wine pairs nicely with a wide variety of foods, including salmon, tuna, portabella, turkey and tofu.  It also pairs surprisingly well with salads, chicken and pork, including bacon.
Product Notes
Made with 100% Pommard clone, the fruit for this delicious Pinot Noir comes from Pudding River Wine Cellars' Estate Vineyard in Salem, OR.  The vineyard is relatively flat with a slight southwest aspect and uses VSP (vertical shoot positioning) trellising.
At harvest, the grapes were de-stemmed to whole berries. In the cellar, this Pinot Noir was aged for 10 months on its original yeast lees in 100% French oak barrels.  Approximately 40% of the French oak barrels were new.
Winemaker
Puffin Pinot Noir is a collaboration with Sean Allen, the Winemaker for Pudding River Wine Cellars, located in Salem, OR. Sean's wines have earned numerous Double Gold, Gold and Best of Class awards at wine competitions across the Pacific Northwest.
Awards
PLATINUM MEDAL & 95 points, Platinum Wine Awards 2022
Technical Notes
Grape Varietal: 100% Pommard Clone Pinot Noir
Vineyard AVA: Pudding River Estate Vineyard, Willamette Valley, Oregon
Winemaker:  Sean Allen
Cases Produced: 65 cases