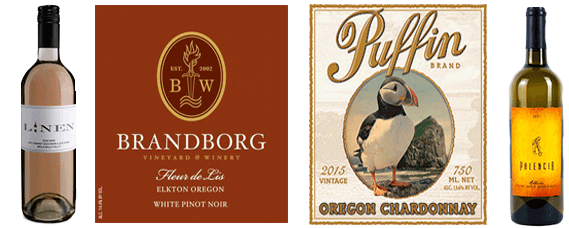 Hello from Steven!
As the days get longer (and sunnier) and the temperatures get warmer, I get a big smile on my face, because white wine season is here.  Yes, I enjoy an earthy Oregon pinot noir and a fruit-forward Washington grenache, but I really love a crisp, cool glass of white wine.  I can pair white wine with a much wider range of food than red wine and during summer, the white wines are so refreshing.
So, for those of you who declare: "I'm only a red wine drinker!"  I say take a few steps out of your self-imposed box and let's just see what happens.  By limiting yourself to ruby red wines, you are missing out on some of the best wines in the pacific northwest.  Just sayin'…
Walla Walla is home to two of my favorite white wines.  Palencia Albarino expresses flavors of lemon and tropical fruit.  Albarino, Spain's signature white wine is a perfect selection to enjoy with Dungeness crab, oysters or shrimp. Open for less than 5 years, Palencia is quickly making a name for itself. That's what happens when your wines take "Best of Show" and "Best of Class" at local wine competitions in back to back years.
Another delicious white wine from Walla Walla is Bergevin Lane "Linen" Sauvignon Blanc.  We fell in love with this white wine last year and the love affair continues.  While New Zealand Sauv Blanc is famous (or infamous) for its grassy characteristics, Linen is packed full of apricot and citrus flavors with nice acidity making it a perfect companion with summer and seafood.
For those of you looking for something unique, try Brandborg "Fleur de Lis" Pinot Noir Blanc.   This white wine, made entirely from pinot noir, presents flavors of apple, pear and spice, instead of the classic red fruit flavors. A number of Oregon wineries are making "white" pinot noir because it sets them apart from their neighboring winery and because it gives them an alternative to simply offering another pinot noir. When I see a winery offering a pinot noir blanc, I applaud the winemaker's creativity and willingness to try something unique. Because Brandborg Fleur de Lis has a bit more weight, this wine can easily hold its own with chicken, pork or salmon dishes.
Lastly, try our very own Puffin Chardonnay.  A recent addition to the Puffin lineup, this chardonnay offers tropical aromas of mango and papaya that grab your attention. Yes, it was aged in oak, but this isn't your parents' big oaky butter bomb.  Instead, you'll find a complex blend of tropical fruit flavors with a slight nuttiness that continues into the finish. This spring, Puffin Chardonnay earned a Silver Medal at the Savor Northwest Wine Competition. This was a fantastic result for a wine that was still in barrels at the time.  Puffin Chardonnay will pair nicely with a cobb salad, chicken, king crab or any cream based entrée.
White wine lovers rejoice!  It's our time of the year.
And always remember, don't drink and drive.