You may not have heard the big news, but Reustle Prayer Rock's  2012 "Masada Block" Syrah was named the Best Syrah at the 6 Nations Wine Competition in Australia.   The 6 Nations Wine Competition is one of the most prestigious wine competitions in the world. Top rated wines from the US, Australia, New Zealand, Chile, Argentina and South America are evaluated by some of the most distinguished wine judges in the world.   Also unique about the 6 Nations Wine Competition is that the wines are invited to

compete by the judges, and then the wines are evaluated by the entire judging panel.
For Reustle Prayer Rock to win this competition is amazing for a number of reasons.   First, being invited to compete is a great accomplishment considering Reustle Prayer Rock is a small and relatively unknown winery on the international scene.   Second, Syrah (also known as Shiraz) is Australia's signature wine.   Imagine for a second if an Australian Pinot Noir came into a competition in Carlton and walked away with "Best of Class" Pinot Noir.
Reustle Prayer Rock is a small, family owned winery in Roseburg, OR, but they are quickly becoming one of Oregon's most decorated wineries.   With a total production of around 8,000 cases annually, all of Reustle Prayer Rock's wines are made with estate fruit, which gives them strict quality control over the grapes that are used in the winemaking.   Stephen doesn't purchase fruit from any other source; he only uses fruit he grows.  It is this dedication to excellence that sets Reustle Prayer Rock apart.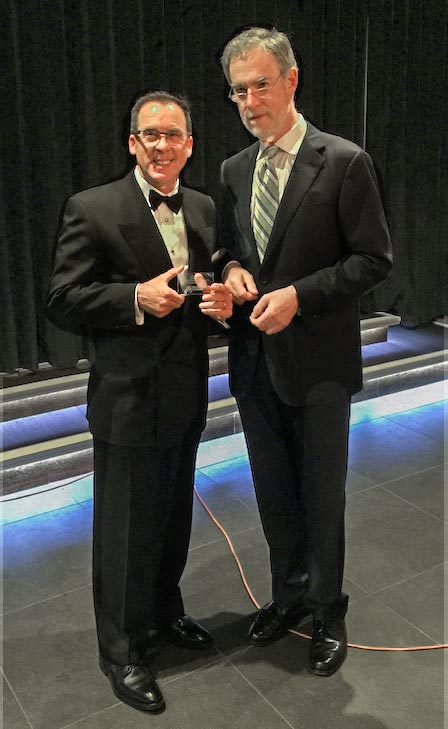 Stephen is pictured at right, receiving the award from Australian wine judge Huon Hooke.
I first met Stephen Reustle, owner and winemaker, at the 2013 Savor Northwest Wine Competition, held here in Cannon Beach.   Stephen was a wine judge on the panel that I was moderating.   Reustle Prayer Rock wines have a great reputation and I was honored to be working with him for a couple of days.    Stephen and I hit it off immediately.  On the first day of the Savor Northwest event, his Malbec was named "Best of Class," beating out my Puffin Malbec.   Yet, when Stephen walked in to the room, he was talking about how good the Puffin wine was.   We introduced ourselves and he asked me if I had any wines in the competition and I told him that "Yes I do, Puffin Malbec."   We both had a good laugh and from that point on, we've been friends.   It should also be known that during that competition, three other Reustle Prayer Rock wines; Syrah, Tempranillo and Pinot Noir, were named "Best of Class."    I had never seen a single winery earn four "Best of Class" titles in a single competition.
When the competition was finished, I asked Stephen if he would be willing to let me carry his wines at The Wine Shack.   This was a big ask, as Reustle Prayer Rock wines were only sold at their winery and to their club members.  At first, Stephen was hesitant.  He explained to me that their distribution strategy did not include wine stores.  While I respect each winery's sales and marketing strategy, I asked him to come into my store and look at the quality of wines that I carry at The Wine Shack.   My thought was that if he saw The Wine Shack carried Oregon's finest wines, he would deem our store worthy.    Stephen agreed and came into The Wine Shack.   He walked around the store, looking at each section carefully before saying "You, can carry my wines."   Since that day, The Wine Shack is one of the few places in Oregon you can find Reustle Prayer Rock wines.
One last thing about last week's 6 Nations Wine Competition, in the Syrah division, not only did Reustle Prayer Rock earn "Best of Class" for their 2012 "Masada Block" Syrah, their 2012 Reserve Syrah took third place.  Incredible.
Please remember to drink responsibly and if you do drink, please don't drive.   We'll see you at The Wine Shack.