ROCKSTAR WINE TASTING!
.
Located out of "Jet City" WA, Charles Smith was named "2015 Winemaker of the Year" by Wine Spectator magazine.
Experience high end Charles Smith wines such as:
King Coal Cabernet Sauvignon ($109, 95 points WS)
The Creator Red Blend ($63, 96 points RP)
K Vintners The Boy Grenache ($53, 97 points RP)
K Vintners Milbrandt Syrah ($33, 94 points RP)
K Vintners Sixto Moxee Chardonnay ($59, 94 points RP)
K Vintners Art Den Hoed Viognier ($29, 91 points V)
Plus a surprise or 2!
Light appetizers will be served during the tasting.
$40 – limited seating
Sun, March 12, 2017 2:30 PM – 4:00 PM PDT

An Invitation to Join
Puffin & Friends Wine Club
Dear Friends,
This is is unlike any other wine club you've heard of. In addition to offering our own delicious Puffin wines, we're including amazing wines from some of our favorite Pacific Northwest wineries.   That's right…you get Puffin wines AND wines from other local wineries. Because we own a wine store, we have access to the finest wines made in the Pacific Northwest.
– Steve
Three levels: Trio, Six Pack, Case | From $89 per shipment
Benefits include free tastings, discounts, Sommelier service
This Month's Sommelier Selection
This Month's
Sommelier's Selection
Secret Squirrel 2013 GSM $24.50
Grenache, Syrah, Mourvedre
Lowest online price!
Wonderfully complex, the nose shows aromas of lilac, violet, rose petal, blackberry, mulberry, raspberry compote, clove, sandalwood and cedar box. On the palate the wine is vibrant, fresh and focused with delicious flavors of spiced quince, cranberry, dried fig, wild fruit, tobacco leaf and tar. Plush and fleshy with supple tannin, great energy and lingering finish.
The Wine Shack's Own Puffin Wines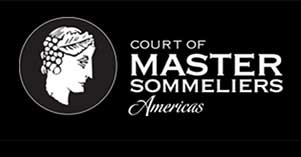 Becoming a Level One Sommelier
"Champagne for everyone!", Brett Zimmerman, Master Sommelier proudly announced.   And with that, there were 44 newly credentialed Level One Sommeliers.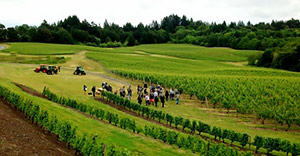 Every summer, since beginning in 2000, a group of Oregon's finest wineries hold "Oregon Pinot Camp", a jam-packed weekend of seminars, presentations and tastings devoted to Oregon's premier wine grape, Pinot Noir.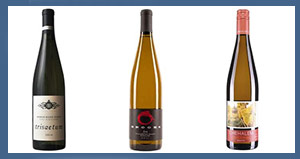 Misunderstandings About Riesling
We can blame California winemakers for a couple of things; chardonnay that tastes like buttery oak planks and rosé that tastes like sweet pink water, but we can't blame California for the confusion surrounding one of my favorite wines, riesling.
Pacific Northwest and Beyond's Finest Wines
This list is comprised of Pacific Northwest wines exclusively and includes something for everyone with a delicious cross section of excellence from Oregon and Washington.