Hello!
Our new "Puffin & Friends" Wine Club is unlike any other wine club you've been a member of. In addition to offering our own delicious Puffin wines, we're including amazing wines from some of our favorite Pacific Northwest wineries.   That's right…you get Puffin wines AND wines from other local wineries.
We're proud to launch our Puffin & Friends Wine Club with 2 of our most popular wines, Puffin Pinot Noir and Puffin Cabernet Sauvignon, along with The Wine Shack's current "Wine of the Year", Reustle Prayer Rock's "Masada Bloc" Syrah.   These three wines are perfect for the holiday season.
Our Puffin Pinot Noir (2013) was recently named a "Judge's Selection" at the prestigious Great Northwest Invitational Wine Competition, held in Hood River (OR).   As one of the few pinots to earn this honor, we were proud to know this wine connected with the judging panel.
Our Puffin Cabernet Sauvignon (2013) continues to get better with age.   This Cab is made entirely with Spofford Station Vineyard fruit, from Walla Walla (WA).   We didn't send this wine to Wine Spectator for rating, but our winemaker, John Derthick, submitted his 2013 Cabernet Sauvignon and it earned 91 points!
However, the most unique feature of our Puffin & Friends Wine Club is the inclusion of a "Friends" wine.   Because we own a wine store, we have access to the finest wines made in the Pacific Northwest.    The hard part is to figure out which "Friends" wine we want to include.
For our inaugural wine club release, we've chosen Reustle Prayer Rock's "Masada Bloc" Syrah (2014).   I first tasted the 2014 Reustle Syrah this summer when winemaker Stephen Reustle and his lovely wife Gloria visited Cannon Beach.   Delicious!     When I informed Stephen that we chose his Masada Bloc Syrah as our first "Friends" wine, he wanted you to know that you're getting this wine before it has even been released to HIS wine club.   For those of you who don't know the pedigree of Stephen Reustle's Masada Bloc Syrah, his 2012 vintage was named "Best of Show" at the Seven Nations Wine Competition, held annually in Sydney, Australia.  This was an incredible result and in essence, the wine could have been considered, "Best Syrah in the New World".   It's that good.    This Reustle 2014 Syrah follows two amazing vintages and, in my opinion, is the best of the bunch.   You're going to love it.
Enjoy!
Current Wine Club Shipment
Fall 2016 Club Release Tasting Notes
Puffin Pinot Noir, 2013

The 2013 Puffin Pinot Noir presents more as a classic Pinot Noir from Burgundy than Oregon.  Enticing aromas of smoke, dark cherries, violets and forest floor take you back to the birthplace of Pinot Noir. This delicate wine offers flavors of plum, blackberry bramble and spice in the mid-palate.   This wine is nicely balanced, which gives it a long, clean finish.
The fruit comes from Pudding River Wine Cellars' Estate Vineyard in Salem, OR.
At harvest, the grapes were de-stemmed to whole berries. In the cellar, this Pinot Noir was aged for 10 months on its original yeast lees in 100% french oak barrels (40% new barrels).
Enjoy Puffin Pinot Noir with including grilled salmon, portabella, turkey, burgers and tofu.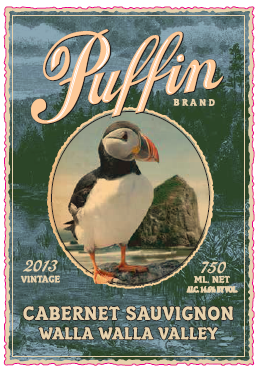 Puffin Cabernet Sauvignon, 2013
Puffin Cabernet Sauvignon delivers lush aromas of blackberry, black cherry, leather and dried herbs.  On the palate, this garnet colored cabernet has firm tannins and layered flavors of black cherry and blackberry, combined with flavors of mint, sage and cedar.
All of the fruit for this delicious wine is from the Spofford Station vineyard in Walla Walla (WA).  , which is well respected for its Cabernet Sauvignon, Cabernet Franc and Syrah.
In the cellar, we blended a drop of Cabernet Franc (1%) into the Cabernet Sauvignon to provide complexity.  100% of this wine was aged for 9 months in oak barrels. Approximately 67% of the oak barrels were French and 33% of the oak was American.
Puffin Cabernet Sauvignon is food friendly and pairs nicely with a wide variety of foods, including grilled steak, brisket, beef tenderloin, hard cheeses, pasta with marinara sauce and meatballs.
Reustle Prayer Rock "Masada Bloc" Syrah, 2014

This beautifully colored wine has an inviting bluish-purple hue.  Bursting with a potpourri of aromas and flavors of oak infused violet, black cherry, blackberry, pepper, smoke, cedar and bacon fat.   Expressive tannins expand the mid-palate and highlight a unique tension between tannin and acidity which create its own unique personality.
All of this Syrah fruit comes from Reustle Prayer Rock's Estate Vineyards in Roseburg, OR.
In the cellar, this Syrah was aged for 10 months in both French and American oak barrels.
This Syrah is a perfect match for barbecue ribs, pulled pork sandwiches, lamb, game and cured meats.