Puffin & Friends Spring 2017 Newsletter
Hello Wine Club Members!
We are excited for you to enjoy our Spring 2017 Puffin & Friends selections!
For starters, we're including our just released 2016 Puffin Pinot Gris. Made by Ray Walsh, the winemaker at Capitello Wines, this wine continues our tradition of excellent Pinot Gris as it was just named "BEST OF CLASS" and a DOUBLE GOLD medal winner at the 2017 Savor Northwest Wine Competition.
We're also including our Puffin Red Blend (Non-Vintage) in this Wine Club release! This delicious and easy drinking red wine is a blend of Syrah, Merlot, Pinot Noir and Malbec. The Pinot Noir is from the Dundee Hills (OR), while the Syrah, Merlot and Malbec are straight from Walla Walla (WA). This wine just received a SILVER medal at the Savor Northwest Wine Competition. I call this the perfect "pizza wine" but it goes nicely with a wide range of foods, including burgers, grilled foods and big bowl of pasta. This wine is made by John Derthick, the winemaker at Lujon Wine Cellars, located in Carlton, OR.
Our "friend" wine this release is Lemelson's 2014 Thea's Reserve Pinot Noir. If you're not familiar with this wine, it is Wine Spectator's #68 in the Top 100 Wines of 2016. It also happens to be one of my Sommelier Selections last summer.    The first time I tasted this wine, I knew it was special. Complex fruit flavors mingle with a slight earthiness that nods to both Burgundy and Oregon.
I can't wait for you to taste this wines. I'm certain you'll be calling for more!
Enjoy!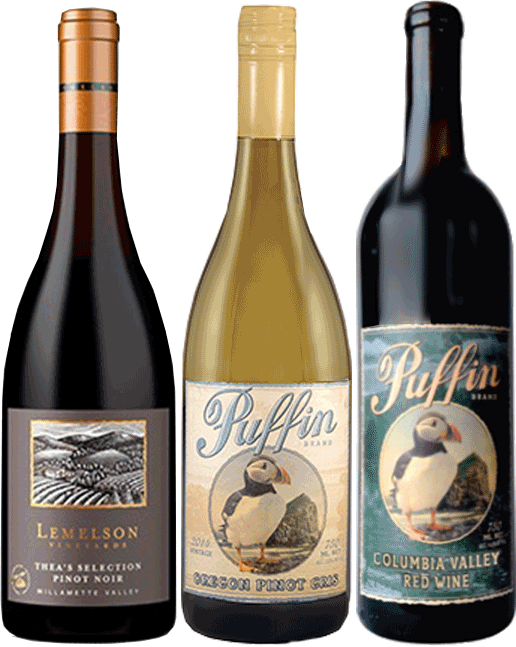 News & Events
We survived one of the rainiest winters in years and it's time for bud break in vineyards across the Pacific Northwest.   We can't wait for sunny days and warm temperatures to return to Cannon Beach.
We've been busy since our sending out our Winter 2016 Puffin & Friends Wine Club release!   The next vintages of Puffin Wines did very well at the 2017 Savor Northwest Wine Competition in late February, taking a Double Gold and Best of Class, Gold Medal and a couple of Silver Medals.   I can't wait for you to enjoy them.
We're setting up our "2017 Summer Winery Series" and it looks to be another fantastic lineup.  So far, we have booked Sokol Blosser, Pudding River, Lujon Cellars, Crowley Wines, J Scott Cellars, Roco, D'Anu and Angel Vine.   We're doing something new this year and will be pouring a lineup of Puffin Wines one weekend each month during the summer.   Over the years, we've had customers ask why we don't pour Puffin for a Saturday tasting, so we've decided to try it this year.
We're making some changes to Provisions 124 and look to have that space re-designed with some new products before Memorial Day weekend.   We'll let you know about the changes in the days to come…..
We look forward to seeing you in Cannon Beach and The Wine Shack!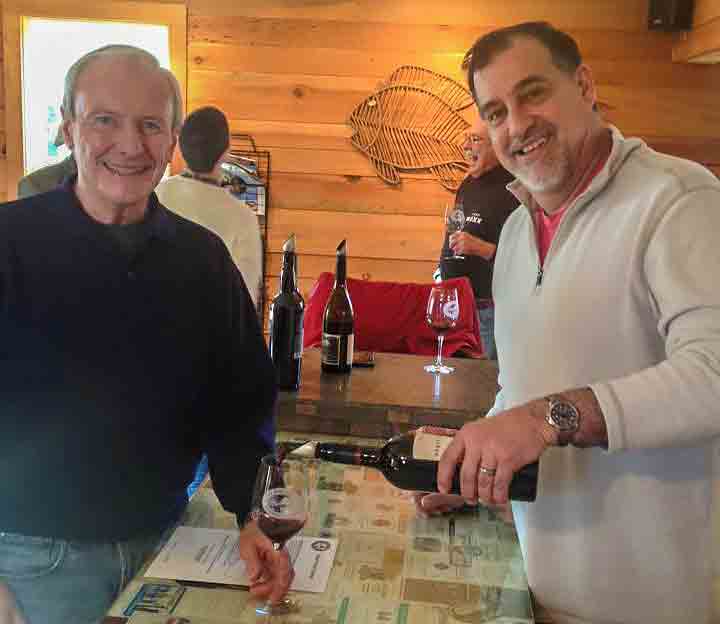 #68, Wine Spectator Top 100 Wines of the Year:
Polished, expressive and deftly balanced, this is generous with its baby powder accented cherry, lingonberry and floral flavors. Remains open and inviting through the long finish. Drink now through 2022. 9,950 cases made. 92 points.
– HS
While at 2016 Oregon Pinot Camp, I had the good fortune of visiting Lemelson Vineyards. I tasted through a selection of Lemelson's pinots, with winemaker Matt Wengel and absolutely loved their 2014 Thea's Reserve. Made with organic fruit from each of Lemelson's vineyards, this 2014 pinot noir is packed full of red fruit flavors, including red cherry, strawberry and raspberry that combine with subtle herbal notes. This would be amazing with salmon, turkey or a cobb salad. – Steven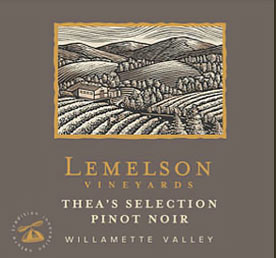 "Best of Class" SavorNW and Double Gold
This soft amber colored Pinot Gris delivers a soft amber color and intense aromas of apple and apricot along with the floral perfumes of honeysuckle that immediately grab your attention.
 In the mouth, this wine is bright from start to finish. Fruit flavors of apple, apricot, pear and citrus fruit allow the wine to linger well into the finish.
Serve well chilled. This Pinot Gris pairs nicely with a wide variety of foods, including Asian cuisine, cheese plates, salads, fish and shellfish (especially crab cakes). Serve well chilled. It also is a nice companion for a summer day at the beach or on the patio.
The fruit is sourced from two Southern Willamette Valley vineyard sites: Deer Haven Vineyard, located west of Corvallis, OR and Lush Vineyards, located in Monroe, OR.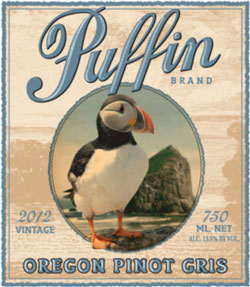 Puffin Red Wine (Non-Vintage) is a unique and delicious blend of 4 classic French grapes; Syrah (44%), Merlot (33%), Pinot Noir (16%) and Malbec (7%). This wine is layered with dark fruit aromas and flavors, including black cherries, plums and violets. A beautiful, deep garnet color, Puffin Red Wine delivers a soft mouth-feel with moderate tannins.
Puffin Red Wine is food friendly and pairs nicely with a wide variety of foods, including wood-fired pizza, barbecued ribs, burgers or portabella mushroom. All of the fruit for this delicious wine is from vineyards in near Walla Walla, Washington.  This area is well respected for its red wine vineyards.
Puffin Red Wine is made by John Derthick, the Winemaker for Lujon Wines.  Lujon Wines have recently received excellent industry recognition, including their 2012 Cabernet Sauvignon was awarded 91 points by Wine Spectator.   Wine Enthusiast has named Lujon's Pinot Gris and Riesling "Best Buys". In the cellar, this Red Wine was aged for 9 months in oak barrels.   Approximately 67% of the oak barrels were French and 33% of the oak was American.